VALENCIA ORANGES, THE BEST CHRISTMAS GIFTS
In SAMEL, we buy oranges outside our own groves, the reason to this is because our groves produce oranges of all sizes and we only work with one size and the best quality of it.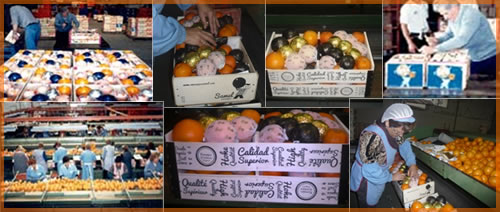 Our Christmas gifts, and any box ordered throughout the year, are only made with large Valencian oranges and tangerines. These high quality of oranges or tangerines with different varieties are selected and collected daily, only using the sweetest oranges when they are at their ripest point. We also work with the variety of clementines, because unlike mandarins are seedless and they are much finer and sweeter.
The size of our gift boxes are designed so that the orange's high quality and caliber selected exact match on them and exceed the compression tests, stacking and vibration ensuring a delivery in perfect conditions.
HOME DELIVERED GIFTS
Our Christmas boxes are original gifts, they are designed and manufactured by artisans in plywood with an exclusive design. We select large oranges and tangerines to fit exactly in the box with no possibility of movement to surpass compression tests, stacking and vibration. This process will avoid movements that can hit and damage when transportation.
Naranjas SAMEL guarantee the delivery of the boxes in perfect condition with a punctual delivery. The gift box must be in its destination after 24 hours of its ordering if the address is within the Iberian Peninsula, always if it is ordered before noon, and around 78 to 96 hours depending of the European shipping area.
SEASON VARIETIES OF ORANGES
In Samel, we use different navel oranges that mature depending on the weather and variety and its blooming in each season. That is why we use oranges that keep all their properties, without any kind of maturing, coloring or conservation with quemicals, they are all natural oranges that are kept in optimum condition for 15 to 20 days being checked every day and kept in a cool and ventilated place.